Slate Run Rita Lass 012 (19728878)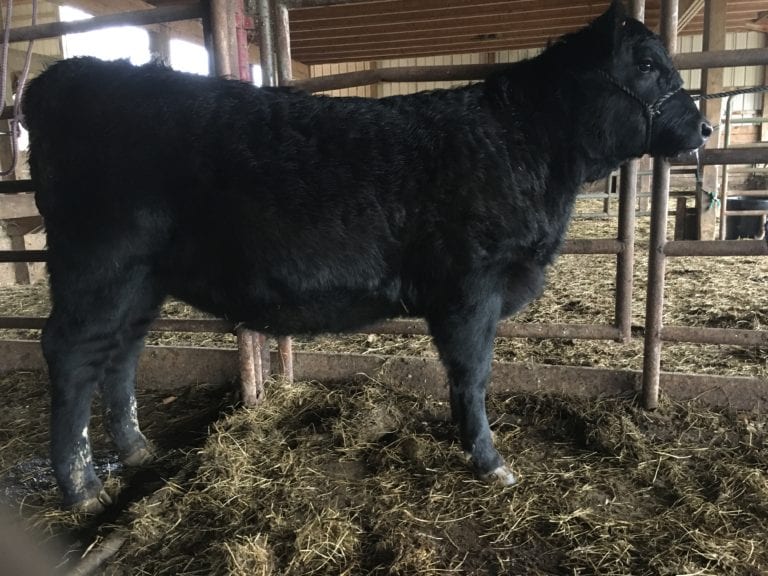 DAM: Slate Run Rita Lass 609
| WW +95 | YW +176 | RADG +.38 | YH +1.5 | MILK +39 | MW +128 | MH +1.0 |
| --- | --- | --- | --- | --- | --- | --- |
| 1% | 1% | 1% | 1% | 1% | 1% | 1% |
| MH +1.0 | DOC +24 | CW +93 | RE +1.10 | $F +141 | $B +214 | $C +319 |
| --- | --- | --- | --- | --- | --- | --- |
| 1% | 20% | 1% | 3% | 1% | 1% | 1% |
One of the oldest, if the oldest female performance lines in the angus breed!
Over 60 years performance selection!
She is the angus breeds proven dominate performance 50k tested female. She is higher than her dominant sire  Byergo Black Magic 3348 (ABS) and her Dam Rita Lass 609 (18432459)!
Black Magic is promoted to be breeds dominant 50K tested bull and the dominant #1 Beef Value Sire. Rita Lass 012 is higher in almost every marker!! Rita Lass 012 is the 4th generation of high tested top 1% multiple traits for 50K testing. Many generations of proven highly productive females! Rita lass 012 has unmatched 50k test scores on 4 generations of females
Her dam Rita Lass 609 is also one of the highest 50k tested female in the entire angus breed, as well as her grand dam and great grand dam. Rita lass 012 has many of the great angus females in her pedigree. Rita lass 012 tests higher than all of the great female matrons in the angus breed; many are in her pedigree!
Rita Las 012 has 12 generations of proven pathfinder bulls on her maternal side. She also is out of the highest classifying cow in the entire angus breed during the 1960s.
One half interest and full possession for sale.
Call for information and details.